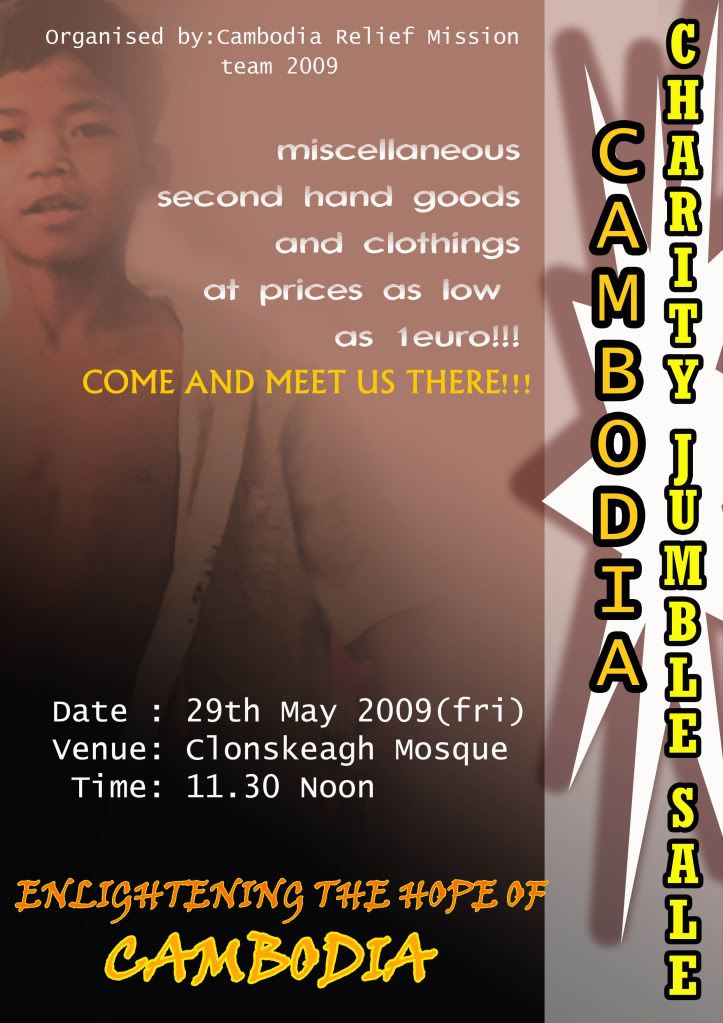 "Those who spend their wealth in the path of Allah by night and by day, secretly and openly, for them is their reward with their sustainer. There is neither fear on them nor shall they grieve" (2:262)
CAMBODIA CHARITY JUMBO SALE

Cambodia Relief Mission 2009 in collaboration with Muslim Cultural Society of UCC and FOSIS Ireland Chapter brings you CAMBODIA CHARITY JUMBO SALE. Details of the event is as follows :
Date: FRIDAY, May 29, 2009
Time: 11.00 a.m
Location: Clonskeagh Mosque, Dublin, Ireland

The main purpose of this event is to collect money for the relief mission to Cambodia and so you are most welcomed to join our good cause of charity. We have a lot of cheap stuffs in our Jumbo Sale. This is the time for you to shop at a very cheap bargain price. There's no other shop in Dublin offering price reduction as low as ours. We guarantee your total satisfaction. Please come and have fun but at the same time, fulfilling you duty of charity. We also have a wide range of products from cakes and food, Clothes, Shoes, Electronic Appliances, Books and a lot more. Please come and spend your money on charity with great product satisfaction.